WELCOME TO ALO
We are happy to announce that six new colleagues recently have joined our company – Anders Andersson, Tommy Pettersson, Emil Eld, Magnus Matsson, Fredric Lindstrand and Elin Nelson.
Anders is our new mechanical engineer. He graduated from technical university last year and has a practical background with experience in both machining and mechanical repairs. Anders has always been interested in mechanics, especially engines and cars. He enjoys going to the gym and biking. Recently he bought an old house which he is currently working on restoring.
Tommy is one of our new CNC-operators and will strengthen our CNC department. He will operate our new Okuma 4-axis mill machine.
Emil is also our new CNC-operator with 10 years of experience, most recently from Scania. He will strengthen our CNC department and will be operating ALO's Okuma 4-axis lathe.
Magnus has been involved in mechanical assembly, CNC-operations and trouble shooting. Magnus wealth of experience from similar jobs has helped him to adapt easily into the world of ALO.
Fredric is our new electrical engineer. He has previously worked as a consultant in electrical design and automation.
Elin is our new HR manager. She's gained her previous experience from working as a recruiter at the bank Klarna, and with HR at Mora-based company Scanmast. Elin's interests vary from spending time in nature (skiing, hiking, cycling…) to taking care of the home. She's also recently fallen in love with knitting and will soon be finished with her first creation – a scarf!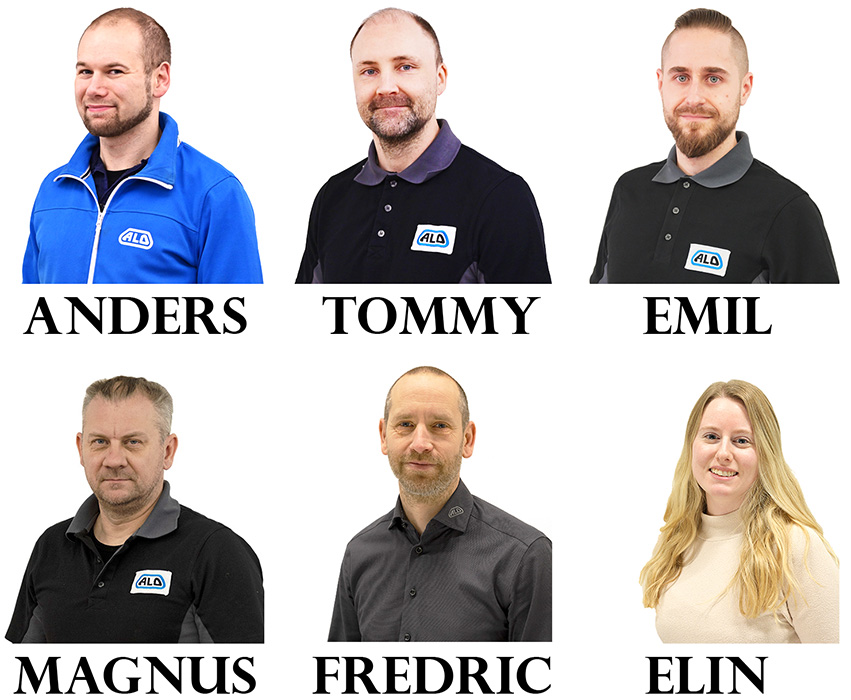 MONIKA AND HENRIK
The people behind our company are as important as the company itself.
Let´s meet Monika and Henrik, our backbone at shipping and receiving.
What do you do at ALO?

We are both responsible for ALOs incoming and outgoing deliveries.
Incoming: Components for the machines that ALO is building and all office supplies.
Outgoing: Machines and spare parts.
Monika also keeps track of and assists the purchase orders, to give the purchasing department a helping hand.
Henrik also takes care of the machine packing before the shipping to our customers.
Which talent do you use at work?
Henrik – I like to play Tetris and that has certainly helped me when packing the machines for shipping. The goal is always to pack space-efficient to minimize the shipping environmental impact and the costs.
Monika – Baking cakes and cookies is one of my talents but at this point, I have kept that secret from my colleagues!
What is the best thing about your colleague?
Monika – Henrik is an eternal optimist and he always helps me out when I need assistance. He is also our package expert; the goods are always well and nicely packed.
Henrik – Monika is a great organizer, and she ties up any loose ends, which making my work less stressful.
We are a good team together!
Looks like you have a lot of spare parts in your warehouse!
We have 7.600 different varieties of spare parts in our warehouse, giving a total of 366,400 items.
Describe the blue ALO colour.
It is a more elegant version of the classic blue industrial colour.
Which is the widest ALO item you have sent?
A loop table to a 198-line. The package was 6,5 meters.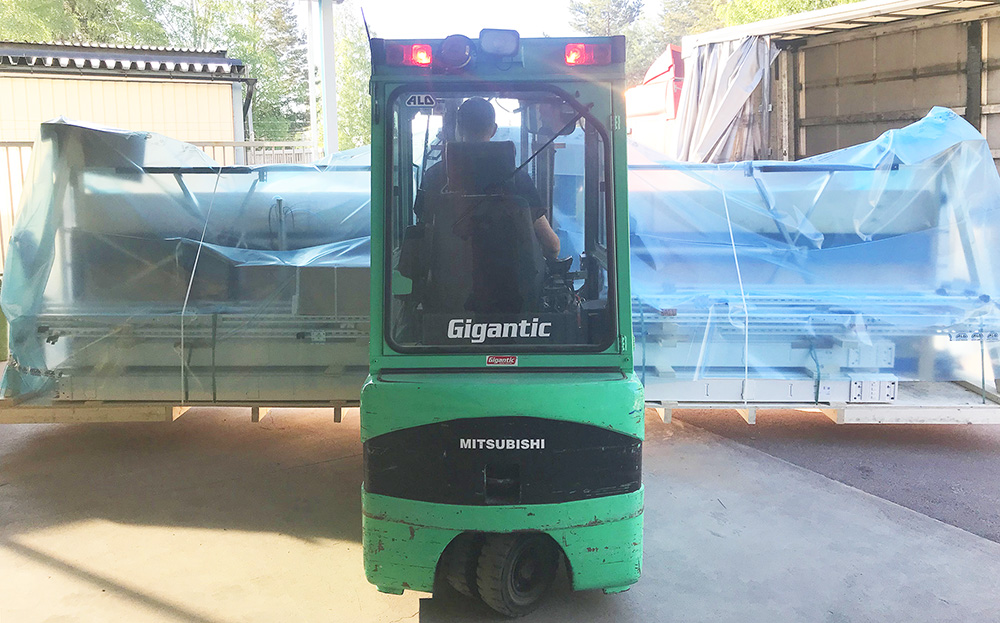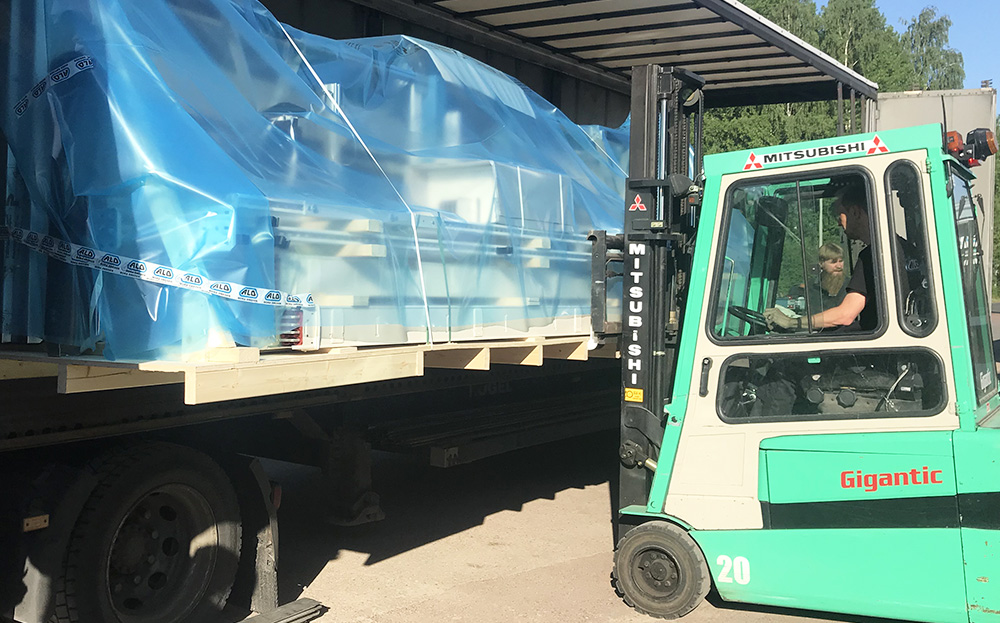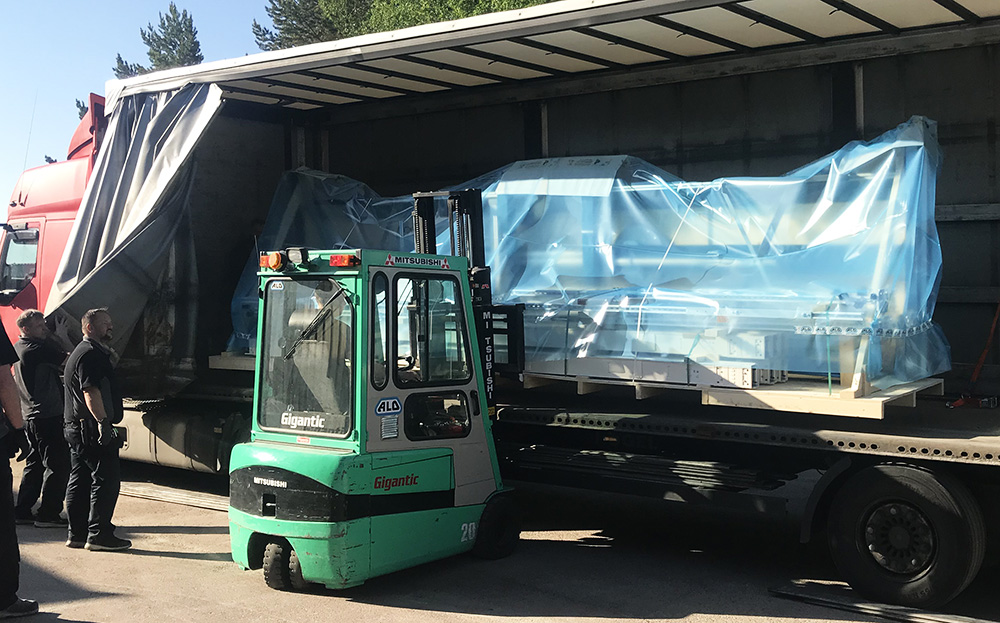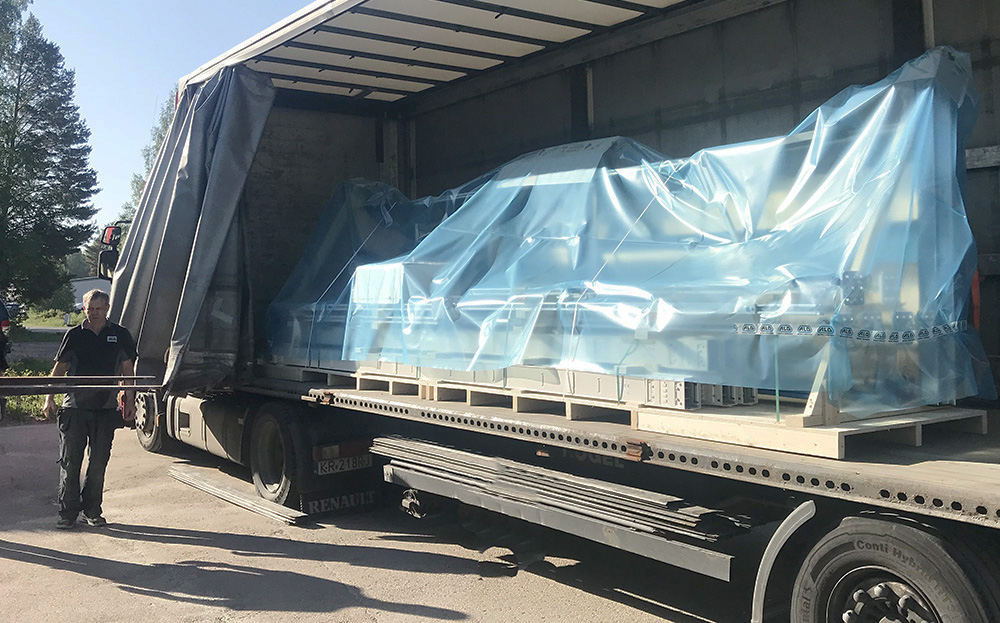 Thank you so much for meeting with me today.
Monika and Henrik – Thank you too Anna and now it´s time for us to take care of business!