ALO'S IIOT PLATFORM
ALOG is our industrial IoT platform where you can monitor current and historical production of your ALO machines in near real-time.
Machine production and status is stored in the cloud for later review, making performance analysis and preventive maintenance an easy task.
All new ALO machines delivered today are prepared for ALOG connection.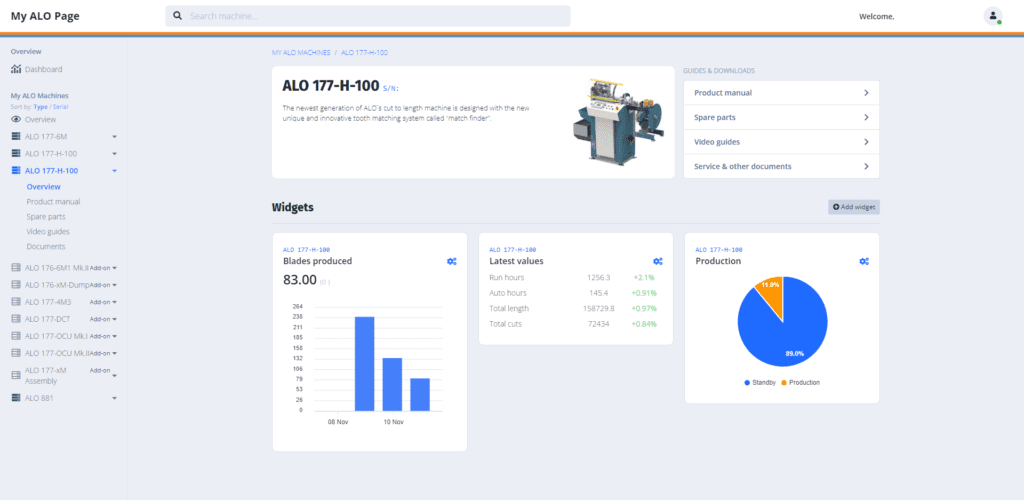 With your machine connected to the ALOG cloud service, you can monitor the machine in near real-time to check the current status of the machine from your office computer, tablet, smartphone or any device that can connect to the internet and log into our MAP customer portal. 
For each ALO machine connected to the ALOG service, you can create widgets that log and present different statistical production data. How many meters have the setting machine produced today?
The possibilities are almost unlimited, and you can freely and easily configure and present the statistics that are of interest to you. 
ALOG is the platform for your service team to administrate the preventive maintenance of your ALO machine. After 10 000 cuts, send an email to the service team that it's time to change the cutting shears, before the machine breaks down. Or any preventive service you want to implement, the choice is yours! Name a service job, set an interval and get going to optimize the usage of your ALO equipment and improve your OEE! 
Rest assure that the service is safe. ALOG is powered by SIEMENS and utilizes the HTTPS-protocol for safe and encrypted communication between your machine and ALOG. 
Does ALO share my information with other customers? Not at all, we will never share data with any other producer. Instead, we use neutral data for statistical reports and to improve our equipment and learn the lifespan of critical spare parts. 
CONNECTING TO ALOG
Depending on machine model and year, a hardware and/or software upgrade might be required to connect your machine to ALOG.
Please fill our the below form to get a quotation specific to your machine.